How Does Affiliate Marketing Work in Nigeria?
Let's face it: technology, especially the internet, can be pretty daunting to try to grasp, and with terms like scams, electronic theft and fake sites, it also seems pretty dangerous. So kudos to the guys who decided e-commerce and affiliate marketing should be introduced. its a very simple and easy medium to make money on the internet anywhere in the world.
partner up with Affiliate Marketing in NIGERIA
Essentially, affiliate marketing means paying the owner of one website to direct traffic to another website for a fee or percentage of the sale made.  So to partner up with an affiliate program in Nigeria all you need is the right traffic on  website, blog, page, or social media you can learn how get the above mentioned on my articles about them.
How to be an affiliate in Nigeria
go to google search for affiliates firm/site in your field
sign up and choose the best affiliate program for you .
Here are some firms/affiliates in Nigeria
The Method To Earn $50-$100 Through Affiliate Marketing in Nigeria
The 100% working method to earn money with affiliate marketing is here. It is so simple and easy with fast and guaranteed results upon your hard work.
First of all, you'll need a blog. I think most of you already have it. You need a little 100 daily visitors to your blog. If you don't have a blog, then first create it and write unique articles to generate traffic. Reaching 100 visitors daily isn't much hard for any of you.
Now create a eBook for your blog. This is the most important factor in this process. You have to create an ebook which is really totally unique. It must attract your readers.
Write an eBook with great information about your niche, which audience all over world wants for FREE.
For doing this, create a very catchy cover and make the title of eBook a bit spicy.
If you can't write an eBook then you can outsource it from others too. They are many writers available there. It may be a bit expensive. So better you write by your own.
After creating eBook, it's time to create a landing page for your blog. A landing page is where your visitors lands, and that page attracts the visitor and makes him give his email/buy the ebook/subscribe to your blog etc.
Different landing pages have different proposes to convert. For this process, you need that visitor to provide you his genuine email address. In return you'll give the report/eBook to him for free.
Create a landing page on your blog's homepage because most of the visitors land to your homepage. If you don't know to design landing pages, then here are few helpful links where you can learn to do it. Helpful links:  (1), (2), (3), (4).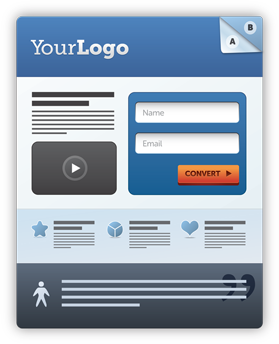 Once you check out all the above 4 helpful links, you'd get enough information about landing pages. So lets move on.
After that, you've to setup an autoresponder. When someone gives his/her email address, the autoresponder will send him a notification to confirm it and the eBook (for what he subscribed).
I strongly recommend AWeber MadMimi. It is fast and easy to use. They've many video tutorials too which can help you. Also the rock-solid support won't disappoint you.
Why I strongly recommend MadMimi?
Very easy to use
Awesome interface
Affordable Price and servies
FREE upto 2.5k Subscribers
Very cheap as compared to aweber or mailchimp
Once you have built this all things, you'll need traffic to your landing page. The best way for getting traffic is Guest Posting. Do guest posts on blogs on your niche and in author bio, leave link to your landing page.
Once you got the email address, now you need to convert it to a buyer.
Send them a 7 day course which will teach you something unique in your niche.
For example, if you are blogging about weight loss, send a 7 day course named "The 7-day Plan to lose weight guaranteed"
If your blog is about blogging tips, then send them "How to Make Your Blog More Profitable in 7-days"
The more attractive your headline is, the more attention you will get. 😀
In this 7-day course, you need to win the heart of him/her. You need to build relation of trust with them.
So be careful while writing it, it is very very important.
Once you are done writing it, now it's time to earn some money. You gave them lots of information for free, now you need to earn money from them.
You will help them make the process fast, and help them, and earn money.
Like when you sent a course titled "The 7-day Plan to lose weight guaranteed" promote some products related to losing weight and earn money. When they will trust you, they'll surely buy it. For finding products related to your niche, you need to sign up at clickbank or amazon associates.
This two are best affiliate networks. I use clickbank most. Amazon associates is also good.
You will get a unique link named affiliate for the product from the affiliate networks. Include it in the email, when the person will buy it via that linked, you'll earn commission for it.
The best thing is that, you can even get more than the creator of product gets for a sale. This is affiliate marketing.
The secret to generate more profit is getting more traffic and more emails. You can get lots of traffic via guest posting.
This is the method which can generate you $50-$100 on a daily basis.
Here's a great post to check out increase affiliate sales and make more money